Product Development to the Fullest Extent
Finnish companies combined their strength and expertise and offer solutions, insights and innovations for demanding product development and production. Cooperation is based on solid trust and commitment, which is reflected in the great common achievements.  
Defour Oy is providing product development and industrialisation services, and RCP Software Oy, which is focusing on software and electronics design, make the impossible to possible. The close and seamless cooperation between the two companies created a consortium called noLimits, which, as its name suggests, offers unlimited product development. Petri Perälä, CEO of Defour Oy, and Turkka Laakkio, CEO of RCP Software Oy, say that the goal is to make ideas come true and implement things cost-effectively and agilely. 
 "Customer has a product idea with business and market potential. Together we create a concept where noLimits team start to develop the idea into a functional and manufacturable device", Perälä and Laakkio say.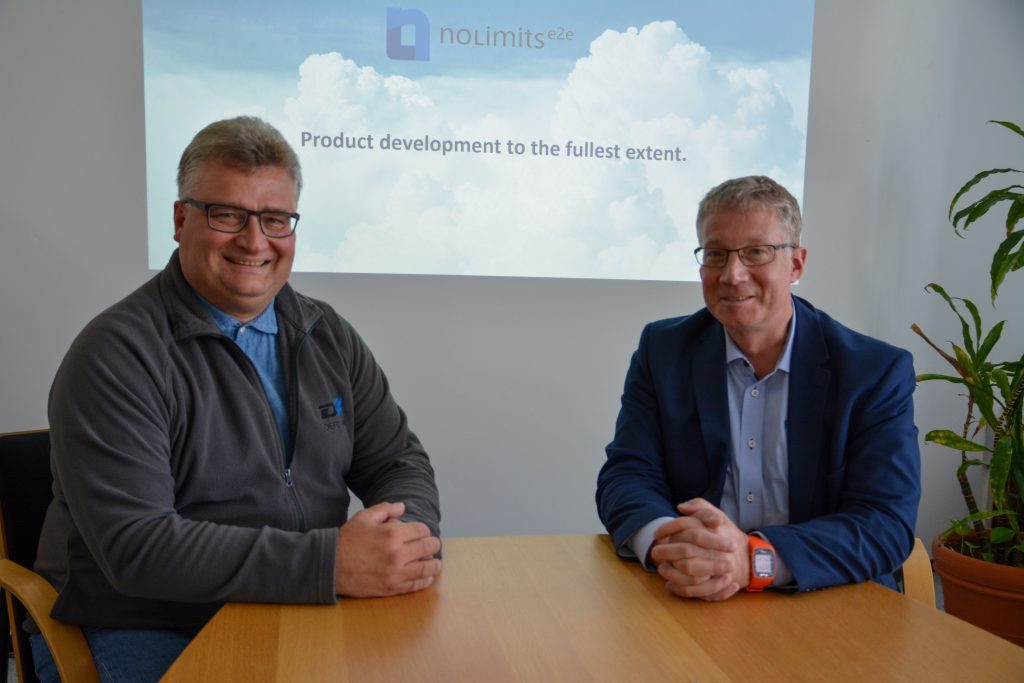 Everything is based on quality systems, which are based on the strong areas of expertise of both business partners: mechanics, electronics, industrial design, engineering, and embedded systems. In addition to quality systems, foundation is always safety, user friendly and optimised manufacturability. A special strength of the noLimits team is versatile in-house making.  
"We have the readiness to make products that meet industry standards. Our experience and history are in mass production, but the same laws and requirements work also on a smaller manufacturing scale. It is enough for us that the production volume is at least one piece, and therefore we can agilely produce for example prototypes. We are also able to serve customers who want to try first and then scale production to bigger volumes", says Perälä. 
We have own production that sets us apart from the typical design office. The diversity of projects also emerges in the project portfolio. NoLimits has designed and produced to manufacturing for example diagnostic equipment, imaging equipment, drug dispensers, production-related equipment, various system control units and antenna systems. 
"Our customers are companies of all sizes that develop products and systems. We do everything that can be carried through our doors", says Perälä.  
Perälä and Laakkio point out that non-disclosure and confidentiality represent a very important role. The customer relationship and absolute protection of the customer's product are the cornerstones of our operations. 
The basis of smooth cooperation is trust 
The roots and backgrounds of both companies come from the Finnish electronics and health technology industry. Perälä and Laakkio believe that the similar backgrounds of the companies enable smooth cooperation. The joint of the common story started from a customer project. 
"Our cooperation started already in 2016, when we designed a device project to a customer. As the project expanded to software and electronics, RCP Software stepped into the picture and, thanks to our effortless collaboration, we continued to work together. In 2019, we decided to condense our goals under the noLimits project", says Perälä. 
According to Perälä and Laakkio, similar genuine, functional inter-company cooperation models are rare on the product design side. Collaborating might be difficult and requires complete trust. 
"Cooperation requires commitment, compromise and a clear common goal from both parties. The success of the collaboration also depends on the congenial of personal chemistries. All of these are realized in our noLimits team", says Laakkio. 
Defour Oy and RCP Software Oy are both located in eastern Turku, about 400 meters apart from each other, and both companies naturally have also their own businesses. According to Perälä and Laakkio, the noLimits co-operation has only a positive effect on the operations of both companies. "Mechanical products are better flavoured with intelligence and smart technology often needs technology as a product as well. Without Defour, we will not always be able to solve the customer's problem - or vice versa", says Laakkio. 
Can do -thinking guides the team 
noLimits has also taken a step outside Finland. The aim is to provide services in the future, especially to the Nordic countries and Europe. The corona pandemic changed internationalization plans, but strong market potential has been recognized and export work is underway. 
"The cancellation of the international fair slowed down plans a bit, but we know there is a need for the service. There are not many examples of similar alliances abroad either", says Laakkio 
Persevering is the hallmark of the project. Both background companies' own strong areas of expertise, combined with production opportunities, make noLimits a strong partner. Perälä and Laakkio say that the cooperation model has received a lot of positive feedback. 
"We have been described as a can do -team. We can turn ideas into feasible and productable products. We often have a big responsibility of customers´ business and it is great to be involved in making new, successful innovations", Perälä and Laakkio say. 
Read More: https://www.nolimitse2e.com/